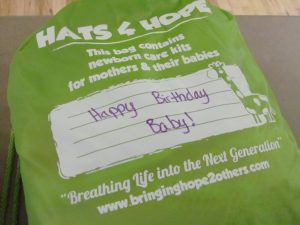 Hope 2 Others help babies who are dying of hypothermia during their first 10 days of life. We are making newborn kits in an effort to help prevent this unnecessary infant death.
We need donations of baby items and volunteers to help us put the Hats 4 Hope kits together. View our PSA to learn more.
DATE: Sunday, May 7
TIME: 1-4 PM
PLACE: Prairie Athletic Club, 1010 N. Bird Street, Sun Prairie, WI 53590
Baby Items Needed (Newborn to size 6-months)
Newborn hats
Blankets
Sleepers
Booties/socks
Onsies/t-shirts
Cloth diapers & plastic pants/diaper covers
Small bar of gentle soap
Infant teething toy
2 ½ gallon zip-lock bags
Donations can also be hand-made, gently used and clean.
This is an ongoing project so keep collecting throughout the year!! Monetary tax-deductible donations to Hope 2 Others are also accepted for the purchase of cord ties, bulb syringes, string bags and shipping. (Checks Payable to: Hope 2 Others, P.O. BOX 1006, Sun Prairie, WI 53590.)
These items will be put into a drawstring pack and given to the mothers. We've taken several of these kits to a birthing center in Tanzania, Mercy In Action Birthing Center in the Philippines and to midwives in Guatemala.
Many babies are dying of hypothermia (low temperature) during the first ten days of life in Tanzania, East Africa and many other developing countries. Even though African days are warm, nights are damp and chilly, and newborns become fatally cold. The first few weeks of life are the most vulnerable time for these newborns. This is such a concern that the Tanzanian government has mandated that all birthing centers, hospitals and clinics must give every mother a hat, blanket and booties when they are discharged. Many Tanzanian families and most birthing centers are unable to provide these supplies for their newborns. In an effort to help these infants, Hope 2 Others has created the HATS 4 HOPE PROJECT to help these babies and mothers in Tanzania and other developing countries who are in need and desperate for their babies lives.
We thank you and the supporting businesses for your commitment to bringing Hope, Healing & Health to Tanzania and other nations. YOU are a blessing to these babies and mothers.
Blessings, Rick & Karen Klemp