Welcome to Bringing Hope 2 Others
Karen and her husband, Rick, are the founders of "Hope 2 Others", also known as H2O, a non-profit faith-based organization, whose mission is to improve the quality of life in developing countries.  Karen and Rick are dedicated to renewing hope of a better life to remote, impoverished and underserved communities around the world.  "Hope 2 Others" Inc., is located in Sun Prairie, Wisconsin.
THANK YOU TO OUR SPONSORS
We are so very grateful to the businesses who have agreed to sponsor our inaugural Climb for a Cause fundraiser! Harbor Athletic Club and Prairie Athletic Club have not only agreed to serve as packet pick-up locations for the fundraiser, but have both made monetary donations to the event. Much thanks also goes to The Star newspaper and General Manager Barb Trimble and Managing Editor Chris Mertes. They have been an amazing supporter of not only the Climb for a Cause fundraiser, but our Evening of Giving Hope 2 Others fundraiser this past February, and their continued coverage of our endeavors is much appreciated.
Ameriprint has given us a good deal on printing for the T-shirts, water bottles and drawstring bags that are going to be part of the event packets. Forever Yours Jewelry has agreed to cover the costs of the African Hope Pendants that will be given to the top individual and team pledge earners.
Hometown Pharmacy in Sun Prairie has donated boxes of supplies for the Hope 2 Others Medical Centers, which will be a huge help when it comes to providing much needed health care to the people of Tanzania.
Buck & Honey's Restaurant and Plate & Barrel Restaurant, both owned by brother and sister Tom and Aimee Anderson of Sun Prairie, are sponsoring the Climb for a Cause fundraiser as well. They also teamed up with us and sponsored the Evening of Giving Hope 2 Others fundraiser. A huge thanks as well to Dr. Chris Stevens and Family Cosmetic Dentistry, Adams Outdoor Advertising and A-1 Landscaping for their sponsors. We are so grateful to have them all as part of our Climb for a Cause team.
Together we can make a difference!
REGISTER NOW FOR CLIMB FOR A CAUSE
First come, first serve on remaining T-shirts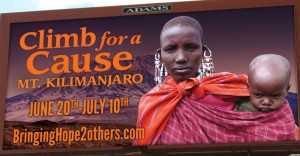 Since August 2013, Hope 2 Others has been gifted 200 acres of land in Tanzania to build 16 medical centers. We are currently in the process of raising funds for the first medical center, which will be built in Kisongo, Tanzania and serve 20,000 people. This summer, we are sending a group of people to Tanzania to climb Mt. Kilimanjaro to raise funds for the medical center. We are challenging people, businesses and organizations to "join" us on our climb by participating in the Inaugural Climb for a Cause. We invited you to "climb" with us by running or walking 170 miles from June 20-July 10. Just like Hope 2 Others' work would not be possible with just one person, we are encouraging people to tackle the challenge together. Challenge your family members, co-workers or even some friends from church or the gym to join you. Registration is $35 per person, and teams of up to 6 are allowed. Land climbers are encouraged to collect pledges, which will be used to support the first Hope 2 Others Medical Center. The actual challenge will take place June 20-July 10, and during this time, participating individuals, teams and businesses will run or walk 170 miles. Participants may also bike, but be aware that one mile running is equal to TWO miles biking, so if you ran 4 miles, you will need to bike 8 miles. Our land climbers will receive a yellow drawstring swag bag, which includes an event T-shirt, water bottle, button, African necklace and Hope 2 Others silicone bracelet. Registrations must be received by May 20 to ensure T-shirt size and availability. Packet pick-up will be at the Prairie Athletic Club on June 20 and 21 from 5-8 p.m. You will turn in your pledges at this time as well. To register, print off the registration and pledge forms, found below: 2014 Climb for a Cause Registration Climb for a Cause pledge sheet
Climb for A Cause Registration

Registration
T-shirt Size
You can also register electronically through Paypal by using the Buy Now button located above and to the right of this announcement, the Buy Now button on the Events page, or on the side of the Home Page. Participants are able to select how they want to register and what T-shirt size they would like. We have six registration options available: Individual, team and business/organization w/packet pickup for $35; and Individual, team and business/organization w/packet shipping for $45. If you select one of the packet pickup options, you are agreeing to stop by either Harbor Athletic Club, 2529 Allen Blvd., Middleton, from June 19-21 from 5-8 p.m. or at Prairie Athletic Club, 1010 N. Bird St., Sun Prairie on June 20-21 from 5-8 p.m. to pick up your swag bag and "climb" supplies. For an extra $10, we will ship your goodie bag directly to you. You must provide your shipping address. You will still need to stop by Harbor Athletic Club from June 19-21 or Prairie Athletic Club from June 20-21 to turn in your pledges. For more information about Climb for a Cause, email Public Relations Director Rachel Wittrock at hope2others.wittrockra@gmail.com.