There are many ways to donate to Hope 2 Others. Our programs are listed below, feel free to designate money to a specific program or to support our overall vision. Thank you for your support.
Support our vision
Nothing happens without a dream. By supporting Hope 2 Others you are helping support our work to promote, facilitate, educate, and provide access to good hygiene and health care practices, as well as the construction of medical clinics, schools, and community centers.
Sponsor the Work and Ministry of Hope 2 Others
Please use our Paypal account below.
Click here to go to the New Life Band Website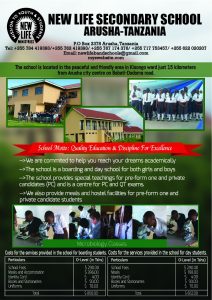 Click the image above to open full size flyer in a new window.
Support a Child
New Life Secondary School in Arusha Tanzania, East Africa.
The high school is located in the peaceful and friendly area in Kisongo village just 15 kilometers from Arusha City Center on Babati-Dodoma Road. School Motto: Quality Education & Discipline for Excellence
• New Life Secondary School (NLS) is committed to helping young people to reach their dreams academically.
• NLS is a boarding and day school for both girls and boys.
• The school provides special teachings for pre-form one and private candidates (PC) and is a center for PC and QT exams.
• We also provide meals and hostel facilities for pre-form and private candidate students.
Sponsor a Child
Please use our Paypal account below.
Support Newborn Babies
The threat of death from infant hypothermia in developing countries is a real concern. To help newborn babies and their mothers, we created Hats 4 Hope Kits. These kits include a knit hat, blanket, booties/socks, onesies, a sleeper, cloth diapers, and a bar of soap, as well as flip flops and a toothbrush for the mothers as they often do not have these essentials.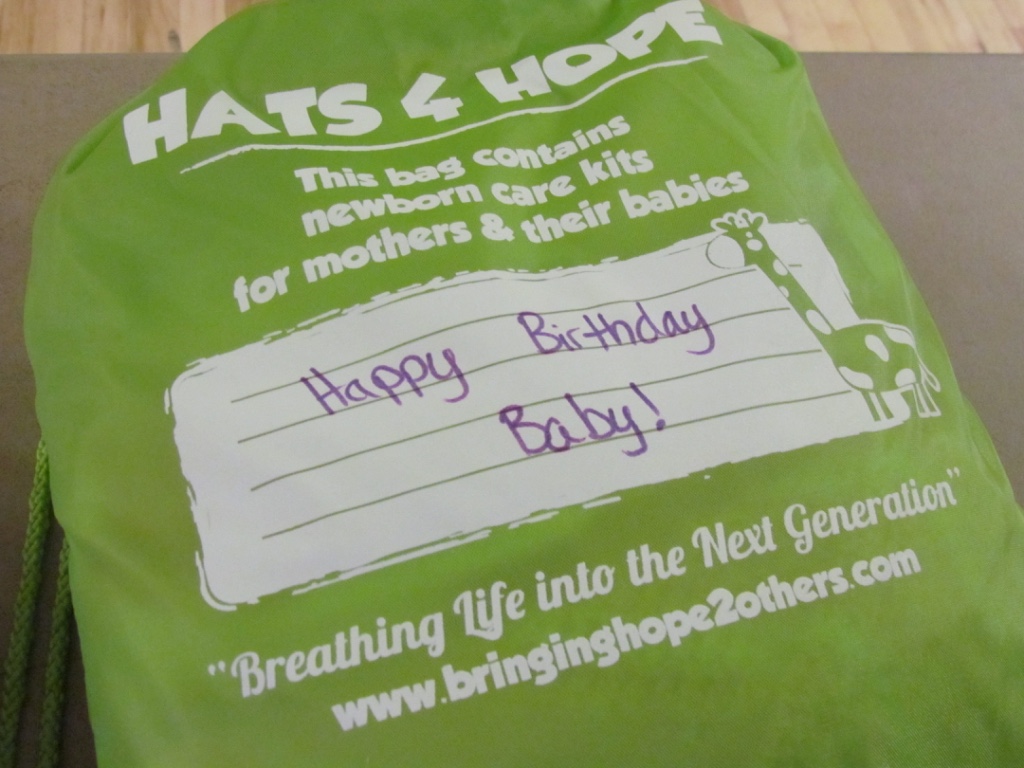 Sponsor a Newborn Baby
Please use our Paypal account below.
Support Education Efforts
Hope 2 Others trains volunteer staff to embark on mission trips to Tanzania and Guatemala (or wherever we are called) to educate birth attendants, midwives, doctors, nurses, and other medical staff. These education efforts bring vital life saving techniques for mothers and their babies. Donations go towards the medical equipment and teaching tools needed to train the staff in life saving skills, as well as the equipment in birthing kits that we give to participants. Thank you for your support and breathing life into the next generation.
Sponsor Education Efforts
Please use our PayPal account below.
Support the Medical Needs Fund
Hope 2 Others is helping to support people with excessive medical costs. Our current fund will go towards Angie Rusu. Angie is the Women's Pastor at City Church in Madison, WI. She is battling Stage 4 metastatic breast cancer. She has undergone many different therapies to help battle her cancer. She is currently pursuing Insulin Potentiated Therapy–which is a lower, more targeted dose of chemo therapy in St. Charles, IL. on July 27th. Since July she has completed all 24 IPT appointments and over 25 additional clinic visits to help stabilize her health. This is the equivalent of approximately 4.5 full doses of chemo in the traditional medical world. She has only endured minimal side effects such as sleeplessness and weakness/lower energy a couple of days a week. Her health has most definitely improved, by a LOT since July. She has regained enough strength to go shopping, some driving on her own, the ability to prepare meals and do light cleaning and laundry. This is a huge improvement from her couch ridden months, needing assistance to do every day normal things.
Recently a CAT scan has reported the cancer is both showing signs of progression and tumor die off. Progression is very common after a lot of the therapies she has pursued because they inflame the tumor, irritating them before they begin to die. Pursuing this route of IPT (chemo therapy) is as an out of pocket expense as IPT is not currently covered by standard insurance. Her family is asking for assistance in her journey to fight the cancer. If you are interested in helping them with ongoing health expenses please check out the information below. (You can read Angie's full story here.)
How to give:
Use the PayPal link to the right. There is a 2.2% + .30 cents per transaction site fee with PayPal. (This is tax deductible.)
If you would prefer to give through check or cash, feel free to give to Jeff and Angie directly. (Not tax deductible.) Send all checks to: Jeff & Angie Rusu, 1317 McLean Drive, Madison, WI 53718.

Or for tax deductible donation, make check out to Hope 2 Others and put "medical needs fund" in the memo line. Please do NOT include Angie's name on the checks.
Sponsor our Medical Needs Fund
Please use our PayPal account below.