December 29, 2011
Thank you for your prayers and partnership with Hope 2 Others in 2011!  With your help and God's direction we have been able to touch the nations of Guatemala and Tanzania –
• Sending newborn kits to midwives and Dr. Oscar Paredes in Guatemala with the help of HOSA (Health Occupation Students of America) in Wisconsin
• A team of eight Edgewood College Nursing Students transport newborn kits to Guatemala with nursing instructor Nancy Comello RN and Karen Klemp RN
• Shipping two ultrasound machines to Tanzania (see one story below!)
• Shipping two 40' foot containers of medical and educational equipment to Tanzania
• Shipping an ambulance to Tanzania
• A team of twenty-three travels with Hope 2 Others for work in Tanzania Sept 24 – Oct 27.
• Starting a feeding program in Tanzania at New Life Band School
• Sponsored education for 6 New Life Band High School Students
• Partnered with Life Touch Ministries from Warsaw, Indiana for ministry in Tanzania
• Assisted a missionary in Chiquimulilla Guatemala with life threatening surgical/medical needs (see story below)
As we dream about what 2012 might bring, we are thinking of additional clinics in East Africa, infant medical care and midwife training in Guatemala and Tanzania, and continuing to touch the lives of children through the work of New Life Band in Tanzania.  As we approach the new year, would you consider a year end gift towards these – and other – dreams?
• For credit card donations using Paypal, click on the gold "Donate" button on our web site:  http://www.bringinghope2others.com/
• Or postmark your year-end check by December 31 to Hope 2 Others, PO Box 1006, Sun Prairie, WI 53590
• Checkout the 2 recent articles from the WI State Journal  from Dec. 27, 2011 at: www.madison.com and Sun Prairie Star on Dec. 29, 2011 www.sunprairiestaronline.com
Below we have included a few favorite miracle stories of God's work and provision through this ministry by providing warehouse space, an ultrasound machine, and life-saving medical care!  We hope these testimonies bring you a renewed confidence and faith in Jesus as we partner with Him – and you – for  the work of Hope 2Others now and in the new year.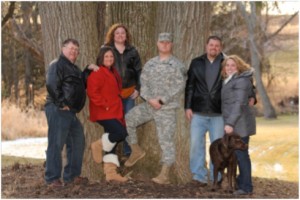 (p.s.  We believe the Lord is leading us to ask for the first time for key financial and prayer support for us personally this New Year.  If you would like to so designate your contribution add a post-it note to your check with our names on it or send us an email after you make your Paypal donation.  For more information please email us at  Karen@bringinghope2others.com or rick@bringinghope2others.com
We asked for port fees – and got a warehouse…. 
"This simply won't do"!  Jane was aghast when told that a container of medical and school supplies was sitting on a dock in Dar es Salaam because there wasn't enough money to pay the port fees – and the potential bribes to go with it.  Next thing Karen knew her phone was ringing.  Jane is on the line and informs her that the Wisconsin State Journal would be calling shortly for a phone interview about the Tanzania container problem.  Within days an article appeared both in print and on the web relating the status of the container, as well as a simple two sentence mention that local warehouse space was also an urgent need.  The current space had been sold and with less than two weeks to go, Hope 2 Others had to vacate their current warehouse.  Prayers were answered and God moved in a big way!  As a result of the article over $1,200 came in and a gentleman called and offered warehouse space on Hwy 19 near the interstate.  Rick told him that he was certain that 200 square feet would be just enough.  The kind man laughed and said Hope 2 Others is being given 6,000 square feet of donated space – with just the cost of insurance!  Karen and Rock later went to finalize the insurance and the agent donated the cost!  We dream with God about how He may want to fill the warehouse this New Year….
Wisconsin State Journal – December 27, 2011
http://host.madison.com/wsj/news/local/sun-prairie-charity-hopes-shipping-snag-will-bring-attention-to/article_d0816696-302f-11e1-a62f-001871e3ce6c.html?mode=story
Sun Prairie Star – December 29, 2011   (In the paper today – as we write this!  Praise God!)
http://sunprairiestar.com/main.asp?SectionID=4&SubSectionID=129&ArticleID=9216
Abundantly more than you can ask or imagine….
Karen had forgotten about the conversation – that was until Care Net called.  They wanted to know "could she use an ultrasound machine?"  Immediately Karen remembered a conversation with Dr. Joel Carpenter in Dar es Salaam Tanzania regarding his need for an ultrasound. Karen was frustrated when she was unable to find his email so she asked God "If you want Dr. Joel to have this ultrasound, then please help me to find his email address!"  That simple prayer was answered when less than 24 hours later Karen received an email from Dr. Joel!  He wondered "if she had remembered him and had any leads on an ultrasound machine?"   She immediately called him in Tanzania to confirm – and ask "what else?"  Dr. Joel sent a wish list of 75 needed medical items – and Rick was able to supply 65 of them from the warehouse! There were no finances to ship a container, but that problem was solved when Dr. Joel connected Hope 2 Others with Samaritans Purse (Franklin Graham Association) who offered to donate the shipping from North Carolina to Tanzania!  Dr. Joel's supporters quickly funded the transport to North Carolina and on a snowy February morning Rick and Karen set off with a rental truck loaded with the much needed ultrasound machine and additional medical equipment!   In God's perfect timing, Karen and Rick were in Tanzania and helped unload the container – and ultrasound machine – ten months later at the YWAM base in Dar es Salaam! God provided the ultrasound – and also the "abundantly more than we could ask or imagine" by providing additional equipment and supplies and the opportunity for Karen and Rick to be a part of the beginning, middle, and end of a miracle.
Dennis and Elvira with Karen – Guatemala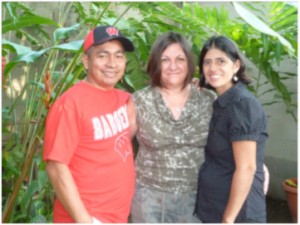 Elvira gets her miracle….through the prayers and generosity of those she served….
It just didn't seem right that Elvira should suffer.  She and her husband Dennis had shared their home and hospitality with many Edgewood nursing students and other Hope 2 Others mission team members in previous visits to Chiquimulilla Guatemala.  During a March visit this year, Karen and her friend and colleague Nancy Comello found Elvira suffering with severe abdominal pain and an enlarged abdomen/uterus after an emergency surgery several months prior.  They prayed with Elvira and Dennis for a healing miracle since she had lost weight, couldn't eat, and required additional medical care but had no medical insurance or means to pay.  Upon their return home, Karen and Nancy sent out an urgent email and were amazed when within one week many past Edgewood nursing students and friends responded with $7200 to cover Elvira's medical tests, treatments, and a successful surgery this past November. Praise God for His answered prayers of healing and provision for Elvira and Dennis and the testimony of God's faithfulness to those who serve in His name.