Karen and her husband, Rick, are the founders of "Hope 2 Others", also known as H2O, a non-profit faith-based organization, whose mission is to improve the quality of life in developing countries.  Karen and Rick are dedicated to renewing hope of a better life to remote, impoverished and underserved communities around the world.  "Hope 2 Others" Inc., is located in Sun Prairie, Wisconsin.
Karen is an RN in the NICU (Newborn Intensive Care Unit) at Meriter Hospital, Madison, WI, where she has worked for nearly 34 years.  Karen works with student nurses in the NICU.  She co-leads student nurses enrolled in the Edgewood College School of Nursing Program for a 3 week experience to Guatemala, where they do volunteer medical and health care, teaches CPR/NRP and birthing practices, nutrition, clean water projects, work in clinics and hospitals.  Karen has taught health classes, CPR and NRP (Newborn Resuscitation Procedures) to nurses, physicians, firemen and the lay public in Tanzania and Guatemala.  Rick has over 30 years of experience in the designing, overseeing, and managing of railroad crossing construction projects.  He has been involved in the construction of homes in Mexico, three different schools in Guatemala, and a school in Tanzania.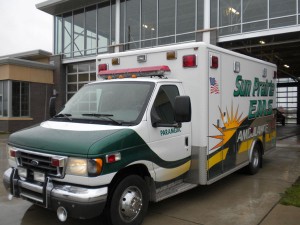 The New Life Band School is in the village of Kisongo, Tanzania, where they now plan to build a health clinic to help counteract such problems as malaria, infectious diseases (including HIV/AIDS), and malnutrition as well as to meet the immediate health care needs of the people.  Because the school attracts children from an area beyond Kisongo, their families will also learn about and be able to access health care on the same campus.
With the villagers and Rick working together with the U.S. construction/building team, they plan to erect a secure 30' x 44' metal building with a foundation.  The clinic will have 2 examination rooms, a small lab, bathrooms, and a room for dental and vision care.  Already, Hope 2 Others has received generous donations of equipment and office supplies from Meriter Hospital, Group Health Corp., and Benjamin Plumbing.  Now they need to finance the structural materials for the clinic and the shipment of medical supplies.
donated-ambulance
Ambulance donated by the City of Sun Prarie, WI
An ambulance was generously donated by the City of Sun Prairie, WI, to Karen and Rick Klemp and their non-profit organization for the medical clinic they are raising money to build in Tanzania-East Africa, at the New Life Band School site.  They are also raising money to ship 2 containers that will hold the ambulance, the medical clinic building materials, and the many donated medical supplies, including an ultrasound machine, exam tables and much more.
The "Clinics of HOPE" project cost is about $100,000, plus many volunteers to travel to the site, to build and set up the clinic, and the financial support to operate with sustainability for the clinic's future.   Karen is doing a "Band-Aid" Campaign to raise awareness and financial support in the local communities, schools, and businesses in support of these medical clinics. We are hopeful that other communities will donate retired ambulances for future clinics.
Your heart felt support is much appreciated!!  Blessings to your day as you bless others!!