Board Members
Board of Directors
Karen & Rick Klemp
Karen and her husband, Rick, are the founders of "Hope 2 Others," also known as H2O, a non-profit faith-based Christian ministry and organization, whose mission is to improve the quality of life in developing countries. Karen and Rick are dedicated to renewing hope of a better life to remote, impoverished and underserved communities around the world as God leads and empowers by His Spirit. They also strive to:
• Bring hope, health and help by facilitating volunteer mission teams;
• Coordinate and promote medical and education exchange programs to equip, empower and increase the level of expertise of indigenous and medical professionals;
• Improve the health and education of developing communities and countries;
• Promote, facilitate, educate and provide access to good hygiene, clean water, good health care practices and education; and
• Build and construct medical clinics, schools and multipurpose community centers in remote and underserved communities that lack these much needed services.
"Hope 2 Others" Inc., is located in Sun Prairie, Wis.
Karen is an RN in the NICU (Newborn Intensive Care Unit) at Meriter Hospital, Madison, Wis., where she has worked for nearly 34 years. Karen works with student nurses in the NICU. She co-leads student nurses enrolled in the Edgewood College School of Nursing Program for a 3-week experience to Guatemala, where they do volunteer medical and health care, teach CPR/NRP and birthing practices, nutrition, clean water projects, and work in clinics and hospitals. Karen has taught health classes, CPR and NRP (Newborn Resuscitation Procedures) to nurses, physicians, firemen and the lay public in Tanzania and Guatemala. 
Rick has more than 30 years of experience in the designing, overseeing, and managing of railroad crossing construction projects. He has been involved in the construction of homes in Mexico, three different schools in Guatemala and a school in Tanzania.
Rick and Karen were married in 1975 and have lived in the Sun Prairie area for nearly 30 years. They have three children: Jesse, a teacher and football coach in the Sun Prairie Area School District; Kaitlyn, a teacher's assistant for the YMCA; and Jason, a first lieutenant with the United States Army.
Rick and Karen have met with many challenges during their life together, but have come through because of God's grace and guidance in their lives, and they give God all the Glory for the victories they have experienced. On Aug. 11, 1985, their daughter Kaitlyn was in a near-drowning in what was once their pool. When Karen found their daughter in the bottom of their pool in 10 feet of water, she gave Kaitlyn CPR and was taken by ambulance to the hospital, where she was on life-support at the UW Children's Hospital in Madison. They were given the option to take her off the respirator (breathing machine), but they chose life and trusted God for a miracle.  They prayed diligently along with their family, many friends and many prayer chains around the world, and God heard their prayers.  She began to come out of her coma after 24 hours, and on the third day Kaitlyn came off the respirator-life support and was breathing on her own.  Kaitlyn was able to come home on the seventh day following her accident, unable to walk or talk, she couldn't even lift her head.  Rick and Karen were told that "she wouldn't amount to much." Kaitlyn was involved in daily PT, OT and speech for her many years of life following her accident.
On Sept. 7, 1985, three weeks after her accident, Kaitlyn was laying on the floor at her grandparents home when she got up on her knees, stood up and took her first few steps for the first time since her accident. Her family was in utter amazement, and the silence in the room was heart-wrenching as we watched with great anticipation and wonder. It was as if angels were lifting her up to her feet and we were witnessing another one of God's miracles. Tears of great joy and hope flooded the room and our very being. It was another sign of hope for Kaitlyn's life and our life as a family.
At the time of Kaitlyn's accident, while Karen was giving her CPR, Karen was praying for her daughter's life. She cried out to God in desperation for Him to restore life into her daughter's lifeless precious little body and also made a promise to God that she would serve him in any capacity for His kingdom, even if it meant to go anywhere around the world, wherever He called her. Now Karen knows that you don't ever need to barter with God, but out of her desperation and humility, Karen's heart was and always has been to serve God, to do His will and to serve His people wherever and however that might be.
Kaitlyn's growing up years were challenging and learning in school was difficult, but with the continued prayers of healing, the heartfelt support of family and friends, and the wonderful and incredible support of the Sun Prairie Area School District, teachers and therapists during her wonderful yet challenging years of school, Kaitlyn graduated from Sun Prairie High School in 2002 with honors. Kaitlyn has overcome many obstacles and challenges through her own faith and prayers. She is, yet today, a life that is a shining example and witness of courage, strength and persistence in never giving up, no matter what the challenge is. When our focus is on God, "We can do all things through Him who strengthens us," Philippines 4:13. This has been Kaitlyn's Bible verse that she has focused on her whole life, her motto.
Kaitlyn's brothers, Jesse and Jason, have always stood beside her, encouraged her and have been her cheer team in life. Kaitlyn, along with her brothers, have gone on many of the mission trips with their parents to Guatemala and Tanzania. In fact, Kaitlyn sponsors a wheelchair-bound child, who has cerebral palsy, in a school for children with handicaps and disabilities in the remote village of Santa Maria de Jesus, Guatemala. She picked out Luis to support in 2004, as she wanted to help someone who had challenges in life that might not otherwise be able to get an education. Kaitlyn goes to Guatemala yearly and visits Luis at his school.
Karen has been to other countries, with her first mission trip in 1995, when she was invited to go to Jamaica to work in a hospital at St. Ann's Bay for a week. The Klemps first met the New Life Band (NLB) in 1999, when they opened their home to the NLB as they needed a place to stay while on tour here in the United States. This was the beginning of their relationship with Tanzania. In 2002, Karen and their oldest son, Jesse, went to Tanzania on a mission trip to work in the schools and a hospital with a church mission team. Since this time, the Klemps have been on several trips to Guatemala and Tanzania. Karen has also been to India in 2003, and both Karen and Rick went to Brazil in 2006. Rick has had challenges in the area of unemployment over the past few years with the economic challenges that many are experiencing here in the United States, but they are trusting in God for their provisions. They feel blessed for the job that Karen has as a RN in the NICU at Meriter Hospital.
"God has been so good to our family and we realize our blessings so much more when we go out into the world to serve God's people in these hurting and developing countries," Karen said. "Our passion is to serve others, and to be a light in the dark. We strive to bring Hope 2 Others with the love of Jesus and the promise of His salvation and healing love with a compassionate heart and an out reached hand." 
Karen completed her Masters degree in Collaborative Education and Leadership with her focus on Global Health and Education in the summer term of 2010.
The Klemp's give God all the praise and glory for the Ministry of Hope 2 Others, and have chosen God to be the CEO of their ministry.  God has been the director, healer, counselor and forgiver of their lives for them as individuals and as a family, so why not trust in Him to complete their life's journey as being the CEO of this God ordained ministry? Stepping out in obedience and faith is challenging, yet the most rewarding part of life.  To believe, when no one else seems to understand, to take hold of the vision that God gives us, and run with it, trusting and knowing that God is running ahead of you, lighting your path, picking you up when you meet a bump in the road or redirecting you when you turn the wrong corner.
Let God carry you when you are weary.  The victory and reward is in the journey we live and not at the end.
As God brings people into the ministry of Hope 2 Others, He brings people with a heart of compassion, servant-hood, and a multitude of giftings that will serve and bring hope to others for a better life around the world.
We must lead with Godly wisdom and vision, for "Where there is no vision, the people perish," Proverbs 29:18 KJ. The Klemps need the help and support of those who can enlarge Hope 2 Other's vision and broaden its perspective as God leads.
"We seek out and value the advice of those who know and understand our passion and who have the wisdom, expertise and experience in the ways of advancing God's Kingdom, as well as bringing hope to the nations. We look to build a network of advisers and pray for guidance, being open to the new ideas that God brings through others," Karen said. "We desire to willingly weigh suggestions carefully and prayerfully. Through God's direction, we feel that the plans for Hope 2 Others will be stronger and more likely to succeed. God reveals to us in Proverbs 15:22, 'Plans fail for lack of counsel, but with many advisers they succeed.'"
The Klemps are thankful to God for their family, friends and the future of Hope 2 Others as the ministry grows into the destiny that God desires. Their goal, in the words of Mother Teresa, is "If you can't feed a hundred people, then feed just one. It is not the magnitude of our actions, but the amount of love that is put into them that matters." To paraphrase the words of Mother Teresa, Karen believes that "If you can't bring hope to a hundred people, then Bring Hope 2 just one.  It is not how big we are, but the compassion and love that we deposit into the life of another." 
"We look to be the hands and feet of Jesus as we serve the people, being culturally sensitive, respectful and mindful of their needs, as we build lasting relationships for a lifetime of service," she said.
Joel
Bio to Come
Advisory Board
Mike Powers
Mid Day Host / Public Affairs Director  "Life 102.5/Faith 1190 "  Madison WI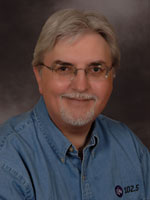 Mike has more than 20 years experience in broadcasting. A 3-year stint as a sports broadcaster (professional baseball on radio and football on TV) brought Mike to the call God had on his life. Even though Mike enjoyed sports greatly, an ongoing, deeper relationship with God caused Mike to use his talents for ministry. In 1987, Mike joined the team at Life 102.5 in Madison, Wis, first as a part time announcer, later an afternoon news anchor, then in June of 2003, Mike became host of the Afternoon program. Each weekday between 9 a.m. and 3 p.m. (Central Time) you will hear a mix of positive music, a little humor, experiences from Mike's life and a desire to celebrate life with his listeners. Mike feels like this is the place where God can best use his talents and abilities.
You can listen to Mike live on Life 102.5 and click the "LISTEN ONLINE FM" button between 9 a.m. and 3 p.m. Monday – Friday (Central Time). Mike still keeps his hand in the sports world by doing local television during football season. He gets an even bigger kick (as a former football place-kicker) as host of local sports ministry events. He has worked with the local "Athletes in Action" & Fellowship of Christian Athletes" ministry projects during the last 12 years.
Over the years, Mike has worked with Eagles In Leadership on a variety of projects, including NFL Super Bowl outreach and Leadership Development training seminars. Mike recently accepted the post of Executive Vice President of Media in an effort to magnify and multiply the effects of Eagles In Leadership ministries. Mike resides in Madison, Wis. and is an active part of his church home at Black Hawk Church in Madison. He ministers to a variety of local churches and men's groups.